Shop in the comfort of your home and get your groceries delivered to your door any day of the week from ASDA. They offer special deals including a load of multisaves where you save by buying more, such as 3 products for the price of 2.
Please note: Cashback is earnt for new members on their first time orders only!
ASDA is one of UK's favourite grocery stores, famous for great value and great quality. Asda believes that by offering great prices doesn't mean they have to be compromising on quality. Now you can order your groceries online and collect at from store!
The ASDA Gift Vouchers can be used instead of cash and allow the recipient to spend exactly what they want, when they want on any of the thousands of products available in any ASDA store across the UK.
ASDA Gift Cards can be used just like cash and can be spend on any of the 30,000 products found in any ASDA store in the UK. This card is re-loadable. This means after you get a card, you can re-load it again and again if you want to. You will get the same discount every time you re-load through our site.
Conditions
Get £2.75 cashback on your first online grocery order only when not using a voucher code, 50p cashback on your first online grocery order only when using a voucher code. If you already shop online with ASDA grocery you will not get any cashback for this service. Please note: Transactions are reported in monthly batches and may initially appear in your account with a £0.00 cashback amount until we receive the batch. Please be aware that all orders amended on the ASDA Grocery site after confirmation do not re-track. So to earn cashback, you should fully complete all purchases before confirming the order and making payment.
Use your Black Card and get 3% Cashback
Conditions
Shop in-store or online using your black card and earn 3% cashback on all your purchases. You will get cashback on all your grocery and other purchases, both online and in-store. Your blackcard cannot be used at Pay at Pump garages only in the kiosk.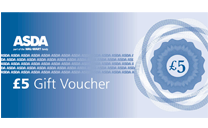 Conditions
These vouchers are only redeemable in stores and cannot be spent online. We endeavour to dispatch vouchers by post within three full working days (Mon-Fri).